So a new sewing year and excitedly that means a host of new challenges in the dressmaking world!  Instagram is great for taking part in sewing challenges to get you sharing the sewing love and the #2018MakeNine challenge is no exception.  It's also great for discovering new patterns from independent designers you may not have heard of and let's face it, there are so many out there beyond the big four pattern companies, it's hard to pick just nine.
Joining Instagram last spring propelled me into this wonderful sewing world where I made some lovely virtual friends and love getting my daily fix of the latest makes, patterns, fabrics etc, but I do find that being connected to this virtual world doesn't help me stayed focussed on my sewing goals. 2017 ended with a stash of unused fabrics and patterns that I'm not even sure I like anymore and quite a few items of clothing that I made but they are so not me and will never be worn! Wrong pattern and fabric choices, or both in some cases!  This year I am determined to be more focussed and not get distracted by new patterns, glamourous images of clothing inappropriate for my lifestyle and free PDF patterns!  Yes we all love a free pattern but I am now going to think to myself "would I pay for this?" and if the answer is no, then I won't download it (that's my sew-resolution anyway!).
So the #2018MakeNine dressmaking challenge hosted by Rochelle at Lucky Lucille is the perfect opportunity to select 9 patterns tailored to my fashion tastes and lifestyle (rural living in wet & muddy Devon!), so with this in mind I have had a real struggle trying to wittle my choices down to just nine but here they are:
Last summer I made a McCalls tunic top that I loved the look of on the pattern envelope but it had so much ease, despite making size Small, it felt like a tent on and it's in that #madebutnotme pile.  I'd seen this pattern before and had pinned it on Pinterest in the past so this was an easy choice.  It has also moved to the top of my list because I have just seen that Indie Sew are doing a three-week long event on shirt making that starts next week (8 January 2018) so I wanted to take advantage of that!  I wear a lot of skinny jeans so thought this would be perfect as an alternative to a jersey top which is what I usually wear.  The only downside I can see is that I don't do ironing, other than to press my seams, so I'm going to have to remedy that if I don't want to look like a crumpled mess!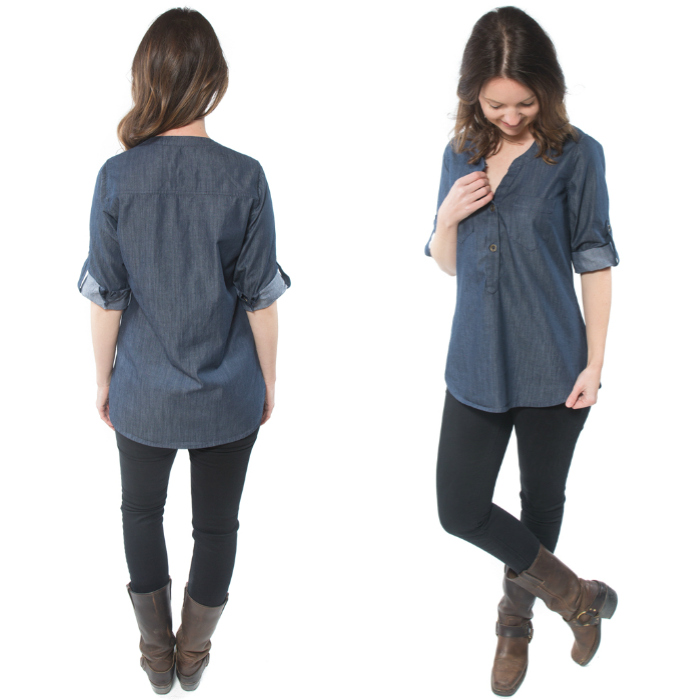 2. Cassandra dress by Valentine & Stitch
Helen and I joined IG around the same time and followed each other's accounts from the outset.  Helen designs patterns just for knits and I have made several of her designs to date.  I had never sewn with knits until 6 months ago and Helen's instructions and patterns were invaluable in helping me to not be scared of sewing with stretch fabrics!  In fact I love sewing with knits now, so much so that I treated myself to a Coverstitch machine last November and want to sew knits all the time but my sewing machine is feeling unloved so I need to get a balance of knits and wovens.  I loved Helen's version pictured on the left, and can see myself wearing this with thick tights and knee high boots in the Winter and a denim jacket in the Spring.  I did want to copy Helen's at first and she even kindly sent me the fabric link but I've decided I probably won't get much wear from a sparkly fabric post Christmas so I'm on the lookout for a plain, possible black or navy, fabric.
3.  Elmira Cardigan by Seamwork
I joined Seamwork last summer and currently have 8 credits, Seamwork patterns being only one credit each so I have lots to use!  I've made three Seamwork patterns so far (Wembly, Leonora and Astoria) and have remade two of them because I loved them so much. However the majority of the patterns aren't my style so I probably should think about cancelling my subscription!  The Elmira is one of a handful that I instantly liked so I thought I'd give it a go. I might try to reduce the size of the bow but hopefully this will become a wardrobe staple for the spring/summer.
4. Nellie Shirt by Republic du Chiffon
I've never used any of their patterns before but I had this photo saved on IG. I love the look of the ruffle and I think it will be a great top in the summer months, a bit more stylish than a regular t-shirt. It has plenty of coverage for the summer too, no worries about getting strap marks in this top!
5.  Jamie Jeans by Named Clothing
I wear jeans a lot and don't really have any issues buying rtw jeans, size 8 with a 30″ length and I'm good to go but in the spirit of trying to sew my own wardrobe I thought I should have at least one attempt before I stick to buying rtw ones.  The Ginger jeans by Closet Case were my first choice being so popular on IG but I wanted to see what other patterns were out there.  I also looked at the Otsu Jeans by Papercut Patterns before deciding on the Jamie's.  They are just a little different to my rtw ones and I like the look of the centre seam and the shape of the front pockets.  The other two will be my back up patterns if these don't work out….
6.  Chi-Town Chinos by Alina Sewing Design Co.
This pattern comes with the option to make a skirt or shorts, so two patterns in one, bonus!  There's also an expansion pack to make long trousers but they're not my style at all so I won't be making those!  I'm hoping the skirt will become my summer alternative to jeans, I've had a couple of similar rtw skirts in the past that I loved so a white denim one is definitely on the agenda and the pattern looks like it will work well with corduroy so great for AW fashion too.
I hadn't heard of this designer until a friend posted her nine and included a pattern from the collection.  I loved some of the skirts but the one I liked only had instructions in French, I did get a Grade A at GCSE but that was nearly three decades ago so I wasn't overly confident I could follow the instructions easily.  Then I saw this photo and all thoughts of the skirt went out the window!  I love the look of this cardigan/jacket (on this model anyway) so this is probably my one impulse buy in my nine patterns, hopefully my version will turn out how I imagine it in my head…
8. Datura Blouse by Deer & Doe
I bought this pdf version pattern last summer and even had it cut out ready to toile but then my dad sadly died the first weekend in July.  All sewing plans were on hold while I grieved, cared for my mum and tried to entertain my three children for the 8 week summer holiday, there was no me time for sewing and I barely went into my sewing room.  By the time September came the need to make a summer top had passed so I'm looking forward to making it this Spring.  I love the cut-out neckline but have read reviews that Deer & Doe patterns are for a C cup so a small bust adjustment will be needed, hence needing to toile which is not something I usually am bothered to do.  It will also be good practice for that intricate neckline detail.
9. Quart Coat by Pauline Alice
Last but not least, this coat!  I love the look of this coat, the colour, the buttons, the epaulettes! It even has a pleated skirt detail to the side (hidden in photo, but it's a lovely feature!).  It'll be a great challenge to finish the year on, hopefully making the most of the improved skillset I'll have towards the end of the year.
So that's my nine and I'm hoping I can stay focussed and not be influenced too much by the lovely makes of others.  It took me ages to research all the patterns and decide on these so I feel as the 'chosen ones' they derserve to be made and have a place in my wardrobe (hopefully not the discard pile). I'm also going to try to only buy fabric that I need, rather than want!  I'm forever telling my children there's a distinct difference between the two but that's just semantics right?!!
Looking forward to sharing the sewing love this year and seeing everyone's #2018MakeNine makes!